About Us: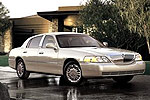 Thank you for visiting our new Internet site. My name is Sandra Riddle, president of Four J's Limousine. Our company offers you affordable rates and of course excellent service. Four J's is family owned and has been in business for 26 years. We have set up our company to be a cost effective means of transportation for the Executives of today. We provide Lincoln Town Cars and SUV's.

Four J's Limousine was designed to provide a professional and dependable service to your company. Our company puts the meaning back into the word "service". Four J's Limousine's service phones are handled 24 hours a day by a Four J's employee.

I look forward to the opportunity to have a growing business relationship in the near future. I would be more than happy to meet with you at your earliest convenient time to setup a Corporate Account between your company and Four J's Limousine Service.


You can reach us at (203) 356-1594. We are looking forward to hearing from you. You can also contact us at our e-mail address: 4jslimo@4jslimo.com.